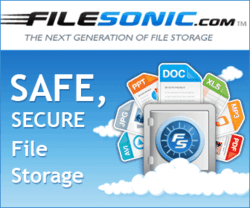 (PRWEB) November 03, 2011
Filesonic, a leader in personal storage and business solutions for a variety of cloud storage and file hosting needs, is partnering with a variety of Independent Artists through the creation of Filesonics Affiliate Program and Blog.
Filesonic is a great platform for aspiring artists to make money from their original content (music, original videos, art, photography, etc.). The artist simply uploads their files to Filesonic and shares them with the world. They are compensated for every download of their files or every time a premium membership is sold to customers they bring in. Either way, Filesonic shares its revenues with the creator and allows them to turn their original content into profit.
Filesonics program is simple and allows aspiring artists to provide their fans free downloads of their work without the added cost of bandwidth. At the same time, Filesonic features select artists on its site giving them an excellent opportunity to increase their visibility, market through traffic and make money from their content.
Filesonic has recently launched a Blog whereby weekly articles showcasing select artists works are posted on the site. The Blog provides users a short biography and summary of the artists work while the artist gains free exposure. The blog can be accessed at http://blog.filesonic.com/
Filesonic is proud to help the Independent Artist community and welcomes all artists to join the Affiliate Program.
For more information contact media(at)filesonic(dot)com or visit http://www.filesonic.com
###
Find More File Hosting Press Releases